Hello, great people
My name is Jakobus Joaquin. I am a passionate and professional German teacher. In both: language and culture, with over 10 years of experience. I am half German and half Mexican and I speak German and Spanish as a mother tongue, English and currently I am learning French.
I love communication, languages and traveling.
In my travels I visited the four corners of the world and I know, today in our modern world - it is more important than ever to understand and learn from each other than ever.
The most important thing in learning is to love
and to have fun doing it. That's why, beside knowledge, humor is one of the most important
keys, in my classes. Let's have fun!!! And feel great looking at our great results!!!
I was born and I grew up in south Germany, Schorndorf - near Stuttgart, a great town where famous thinkers, such as Albert Einstein, Karl Benz or my father are from. My mother is Mexican and speaks as a language professor 7 languages.
Today I live half a year in beautiful Yucatan, Mexico and the other part of the year in wonderful Stuttgart, Germany.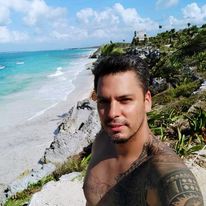 In my spare time, I love to play cello, getting in touch with new people and riding my horse,
Logan.
As a sport I do fencing,
floret in which I was part of the German national team back in 2004.
My advice – and in my opinion, to all those who think German is a difficult language is that also a heavy door, only needs a small key