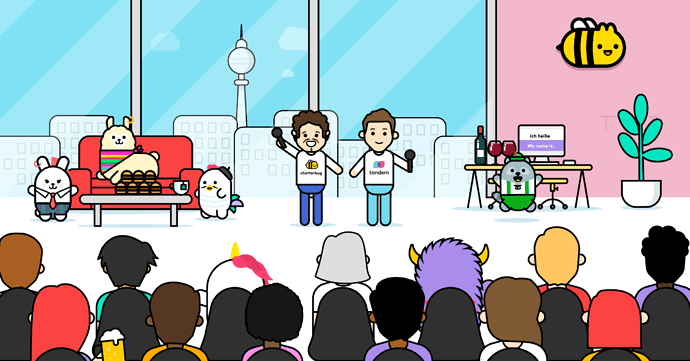 We are excited to announce the 3rd edition of ChatterTalk, our event series focused on the intersection of language learning and tech! This time around, our CEO and cofounder, Scott Chacon, will be interviewing the cofounder of Tandem, Tobias Dickmeis! Tobias is the co-founder and Chief Product Officer of Tandem. He is a serial entrepreneur with a background in media science.
Tandem (www.tandem.net) is a Berlin based language exchange community. Since launching the Tandem mobile app in 2015, more than eight million members around the world have joined the community to practice 160 different languages together and learn from each other. Both Apple and Google have given the Tandem app their prestigious "Best of the Year" awards.
About your host: Chatterbug (chatterbug.com) is an online language learning company that combines the flexibility of online apps with the effectiveness of in-person language schools. Our main focus is to get you speaking the language you are learning so that you are comfortable to use it out in the real world. Chatterbug was built by a team of international entrepreneurs, linguists, and engineers from GitHub, Amazon, Y Combinator, Harvard and Cambridge.
About Scott: Scott is charismatic, forward thinking, and knowledgeable. After leaving his role as GitHub CIO and co-founder, he set off to create a language learning system that would actually teach him to speak another language after years of trying other methods, and he figured why not share it with others along the way. This is how Chatterbug was founded… and how Scott learned German ;).
About the series: In this series Chatterbug will team up with language learning experts and enthusiasts including fellow online language learning platforms and apps, traditional language schools, other education-focused startups, polyglots, teachers, and more. Throughout the series we'll explore breakthroughs in learning and teaching language, the future of technology in language learning, and the joys and challenges of running a company in this field.
As usual, we will finish up the talk with a Q&A and wrap-up the evening with some networking and drinks.
We are looking forward to hosting you in our brand new space near Eberswalder Str. U-bahn so come join us to kick off the first of many events we will hold!
Itinerary
Doors open: 6:45pm
Talk starts: 7:15pm
Q&A: 7:45pm
Networking and drinks: 8:30pm - 10:30pm